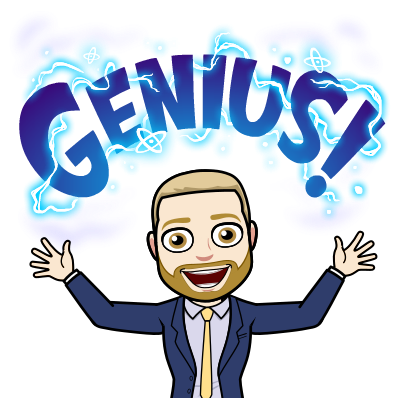 What is Bitmoji?
Bitmoji is your own personal emoji creator. That you can use right from your keyboard! Create an expressive cartoon avatar. Choose from a growing library of moods and stickers – featuring YOU!
How can these be used?
The Bitmoji Chrome extension works directly on many websites. Bitmojis can also be downloaded and inserted into most digital resources for display or printing. The extension is also directly compatible with Facebook, Twitter, Facebook, Slack, most email programs, and just about anywhere you might communicate on the web. You can insert Bitmojis as you type, or drag and drop your character into comments and posts.
Bitmoji in Education
Digital Badges

Student Projects

Awards

Feedback

Twitter Avatars

Digital or Print Classroom Signage

Online Posts

Google Docs

Presentations
I would not recommend that younger students use Bitmoji on their own. While most of the Bitmojis are pretty tame, there are a handful of created avatar poses that involve alcohol or mildly inappropriate suggestions.
Installing the Chrome Extension
1. Click here to access the extension in the Chrome Webstore.
2. Click on Add to Chrome and then Add extension in the pop-up.
3. The extension icon will appear in the top right of your browser window, and a sign-up screen will appear.
4. If you already have a bitmoji account you can log in. If you don't, click Sign Up with Email.
5. If you've used Bistrips in the past, you can retrieve the avatar from Facebook. Otherwise, skip this step, and you can create your avatar from scratch. Follow the onscreen instructions to create your avatar.
6. After choosing your avatar features, click on Save Avatar. (You can change your avatar and outfit at any time.)
7. Click on the bitmoji icon, and a window will open that allows you to Edit your Emoji, search by keyword, or browse the categories.
8. When you click on the Bitmoji extension icon you can drag and drop bitmojis onto compatible sites, or right-click to save them to your device, or right-click to copy / paste them.